The Chinese Terrestrial Digital Television Delegation successfully attended the 3rd African Digital Conversion and Spectrum Policy Summit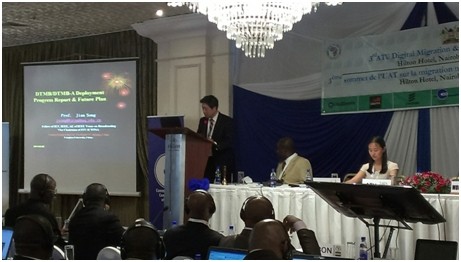 (The Lab news) At the invitation of African Telecommunications Union, from May 27 to 28, the Chinese Terrestrial Digital Television and Industrial Chain Delegation composed of Professor Song Jianjiao from National Digital Television Engineering Laboratory (Beijing), the director of Digital Television Technology Research Center, Tsinghua University, and enterprise representatives from ZTE Technology, GOSPELL, Compunicate Technologies Inc., Tongfang Gigamega, BBEF-TECH, CIRCLOOP, BJ-MOBILETV, etc., went to Nairobi, capital of Kenyan, and participated in 3rd African Digital Conversion and Spectrum Policy Summit organized by African Telecommunications Union, International Telecommunication Union, African Union Commission (AUC) and the Kenyan government.
This summit brought together nearly 200 senior officials from most African countries, summed up the digital TV progress African countries have achieved after the 2
nd
summit so far, and discussed the current process and the challenges of the digital to analog conversion in Africa. During the summit, our laboratory organized Tongfang Gigamega, BBEF-TECH, and BJ-MOBILETV to promote the various developments of Chinese digital terrestrial TV standards in terms of technologies, products, industry chain and operations, etc., which has obtained enthusiastic praise and positive response from delegates from various countries, and achieved good results.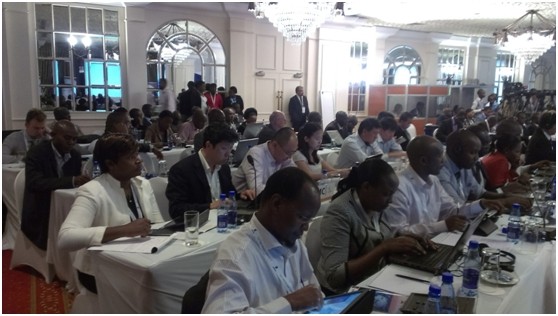 After the meeting, Professor Song and Secretary General of ATU Abdoulkarim Soumaila had a discussion on the promotion and landing issues of DTMB in Africa. Mr. Secretary-General hoped that China could cooperate with ATU and carry out in-depth promotion of DTMB in Africa. Professor Song also exchanged views with some senior officials and engineers from Niger, South Sudan, Nigeria, Egypt and Burundi. Delegated from Burundi, South Sudan and other countries proposed that currently funding problems had become a fatal obstacle to the development of digital terrestrial television, which had led to delays in the process of national terrestrial digital TV development, and if China could provide preferential financial support, they would very welcome the landing of Chinese standards in Africa. During the summit, Chinese enterprise delegation also discussed the overseas promotion of DTMB, made 挠漀洀洀攀渀琀猀 and suggestions, and said they would actively provide cooperation in related areas in response to the "going out" strategy of Chinese standards and Chinese culture.