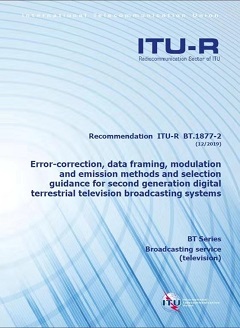 On 20th, December, 2019, the International Telecommunications Union (ITU) has adopted Advanced digital terrestrial multimedia broadcasting ( DTMB-A ) as a recommended 2nd-Generation digital broadcast standard.

DTMB-A inherits and extends the core technologies of DTMB with added innovations and performances in spectrum efficiency, receiving threshold, single frequency networking, anti-multipath, high-speed mobile reception and other technical specifications to meet or exceed the latest development of other international terrestrial digital TV standards. DTMB-A provides all-round support for UHD (4K & 8K), HD, SD, mobile TV, Internet data, two-way broadcast interactive services, etc.

At present, DTMB/DTMB-A standard have successfully deployed and put into operation in mainland China, Hongkong, Macao as well as other countries and regions, such as Laos, Cuba. Cambodia, East Timor and Pakistan. DTMB/DTMB-A mobile transmission system was applied successfully during Beijing Olympic Games. In addition, we have been cooperating with countries and governments who are in dire need to transfer from analog terrestrial TV broadcasting to digital terrestrial TV transmission willingly using a late international standard, such as DTMB/DTMB-A to provide local residents with highest possible TV reception quality and maximum number of programs with rich digital contents. DTVNEL is bridging the standard (DTMB/DTMB-A) with industrial technologies, such as 4K/8K, smart reception terminals, 5G networks, unique mobility functions as well as investment in DTMB/DTMB-A network.